Restaurants & Bars
Be seduced by the gastronomy. Catalonia Playa Maroma offers numerous themed restaurants that will make you travel around different countries, cultures, flavors and offer you real dishes to remember. In our bars you'll find delicious and refreshing cocktails to share tropical fruit juices. We take care of service and comfort to make your holiday unforgettable.
Restaurants Buffet & Snacks
Catalonia Playa Maroma has an extensive gastronomic offer. During the day, you can savor typical Mexican food and other specialties, in the restaurants and bars that are at your disposal.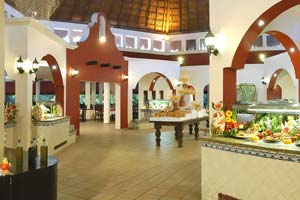 EL PAJARITO
Buffet Restaurant with a wide variety of international and local food. It also has a firewood pizza's oven. Located outdoors and serving breakfast, lunch and dinner.
TORTUGA SALAD BAR
Enjoy delicious snacks and a salad bar. Located outdoors, with service during the day.
CREPERIE
Salty and sweet delicious crepes. Located outdoors, serving during the day.
TERRACE TAPAS LOUNGE
Day service snacks a la Carte Restaurant.  Exclusive for Privileged guest.
A la Carte Restaurants
Specialty restaurants at Catalonia Playa Maroma. Subject to availability, reservation is not required.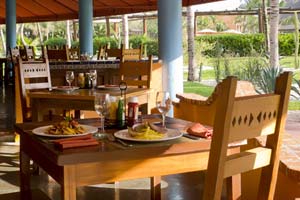 TORTUGA SNACK GRILL
Restaurant that offers the best cuts of meat. Air-Conditioned, with dinner service.
TIO PEDRO
A la carte restaurant with the best Mexican food. Located outdoors, with dinner service.
TOSCANA
Restaurant with the best Italian specialties. Air-Conditioned with dinner service.
TERRACE TAPAS BAR
Delicious tapas and lobster. It has wonderful views of the beach. Located outdoors and serving breakfast and dinner a la carte. Exclusive for Privileged guests.
Bars
Refresh yourself with the best cocktails and drinks at the bars located at Catalonia Playa Maroma and enjoy your vacation.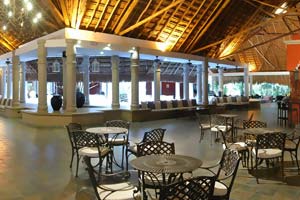 Cat's Disco Bar
Enjoy every night with the best drinks to the sound of music in this fashion Disco Bar.
TEQUILA BAR
Bar located in the Lobby. Open 24 hours.
Palapa BAr
Located at the beachfront, features a lounge area to enjoy the best drinks.
MA LOO BAR
Juice bar 100% natural fruit. Located between the beach and the pool.